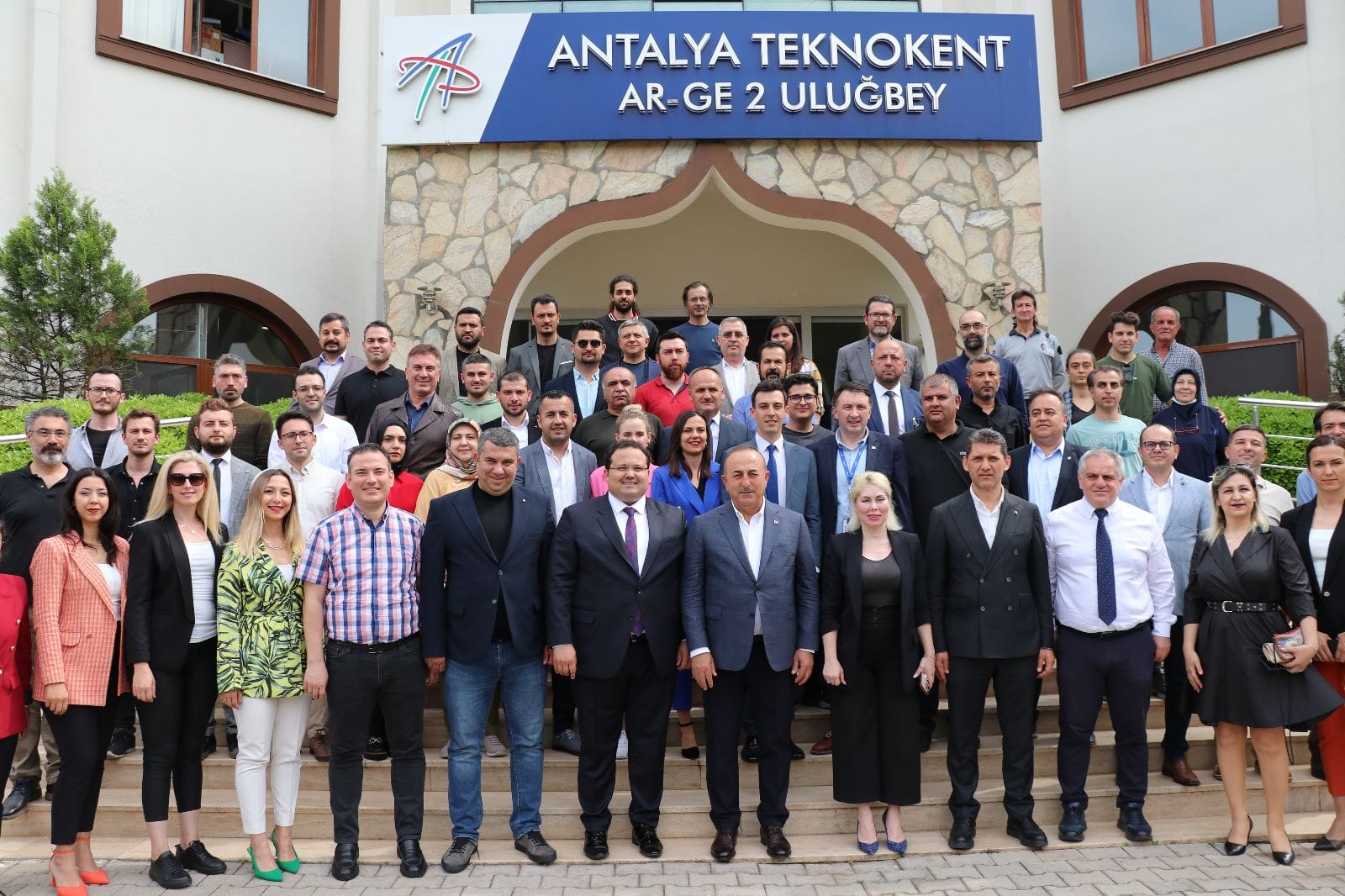 An interview was held with the Minister of Foreign Affairs Mevlüt Çavuşoğlu, hosted by Akdeniz University Antalya Technopark. Mr. Çavuşoğlu answered the questions of entrepreneurs and students and explained that they are planning to establish a Technology Valley in the EXPO area in Aksu with a model including Akdeniz University.
An interview was held with the Minister of Foreign Affairs Mevlüt Çavuşoğlu, hosted by Akdeniz University Antalya Technopark. Akdeniz University Rector Prof. Dr. Özlenen Özkan, Vice Rector Prof. Dr. Murat Turhan, General Manager of Antalya Technopark Dr. İbrahim Yavuz, faculty members, Antalya Technopark company representatives, and students attended the meeting. "We are exchanging views with our Rector for the further development of our university. We give our best support to the visions and projects they put forward. Today, I am also pleased to meet with entrepreneurs and experts who announce the creativity and skill of the Turkish people to the world." said the minister, Mr. Mevlüt Çavuşoğlu. Also stated that visited the university frequently and met with students and faculty members.
WE WILL MAKE ANTALYA A TECHNOLOGY CENTER
Minister Çavuşoğlu said that technoparks are the work of both infrastructure and an understanding that invests in people. "I was here again in 2018, five years ago. We supported your goal of making Antalya Technopark one of Turkey's leading technology and enterprise centers. When we look at it today, it ranks 7th among 98 technoparks in Turkey. Although seven is a symbolic number for Antalya, the first three are worthy of us, so I believe you will achieve this. We also said that we make Antalya a technology center. We are progressing step by step in this regard. Our R&D 5 building has been completed. With the Antalya Technology Valley Project, this place will become one of the important centers of domestic and national aviation and space technologies. With the 25-year agreement, now the software of TAI and our National Combat Aircraft will directly contribute to the defense industry to be built here. In a meeting I attended at Technopark before, we saw that software companies were coming from Japan, and our new friends came. The technology giant, the IT giant Japan's coming to Antalya and investing here also shows the potential of our country."
8 out of 10 HOTELS ARE USING SOFTWARE DEVELOPED IN TECHNOPARK
Minister Çavuşoğlu stated that not only the defense industry but also the software developed in Technopark started to be used very widely, especially the tourism sector benefited from this software and used 8 out of every 10 hotels in Antalya, that it was admirable to use the software developed in Technopark.
Minister Çavuşoğlu underlined that they also care for and support Antalya Agriculture Technopark, which will be established on 1200 acres of land in Aksu. He continued his words as follows. "I'm a farmer's child. The technology of that day was quite limited. Now Antalya Technopark is doing essential work. Seed Technology Center studies are an area we care about. We now produce 90 percent of our seed. We also export to nearly 150 countries. These are a crucial development. We used to import most of the seeds from countries such as the Netherlands and Israel. Now we export to many countries, including Latin America."
A TECH VALLEY FAR FROM THE UNIVERSITY WILL NOT SUCCESS
Minister Çavuşoğlu emphasized the importance of transforming the EXPO area into a technology valley and integrating it with the university. "You know; different projects have emerged for the EXPO area. We said that it is necessary to turn it into a Valley of Technology for the most efficient use of this place. We also told our Minister of Technology and Industry, Mustafa Varank. They were also interested, and our ministry is currently working on it. Of course, we need to integrate this place with the university. A Technology Valley away from university will not succeed. We always say, a university integrated with the city is matter. It is so important that the city has our educational institutions. It will be much more useful, especially to develop science and technology under the roof of our university," used his statements.
THE SUCCESS GRAPH IS INCREASING EVERY DAY
Prof. Dr. Özlenen Özkan, Rector of Akdeniz University, talked about the development of Antalya Technopark and started her speech by thanking General Manager Dr. İbrahim Yavuz and Technopark companies. Rector Prof. Dr. Özkan especially drew attention to the importance of the recent breakthrough in the defense industry and continued her words as follows. The collaborations we have in the defense industry increase our expectations for the future with the support of Minister of Foreign Affairs Mr. Mevlüt Çavuşoğlu and Minister of Industry and Technology Mr. Mustafa Varank. As you know, we are cooperating with TAI, the leading organization in our defense industry, within the scope of the National Combat Aircraft project. Last year, we opened the TAI National Combat Aircraft R&D Office. Last month, new signatures were signed with TAI for the construction of the R&D Building. In addition, the works of FED Aviation Inc., the leading aviation company in Ukraine, continue within Antalya Technopark. This rise of Antalya Technopark in recent years is one of the most concrete examples of domestic and national industrial moves carried out with the Turkey Century target.
MANUFACTURING IS THE ONLY WAY TO CATCH THE NEW ERA
Rector Özkan mentioned that the size of the technology that reshaped the world and the developments that will depend on it both force and excite the imagination. "As a country, our only way to catch this new age is to produce. There is a saying that I love very much 'The imitator is always doomed to be one step behind.' We need to sign imitation and follow-up jobs. Fortunately, we signed examples of this as a university, especially in health. We became a pioneer in this field in the world by doing the world's first uterus transplant. Dozens of transplants were carried out by taking our surgery model. As Akdeniz University, studies suitable for our leading character are not limited to transplants. With the support of President Mr. Recep Tayyip Erdoğan, we have implemented our infrastructure project called Advanced Health Research, where we will work in biotechnology, regenerative medicine, and stem cells. I would like to share with you a recent development in this context. Our university was among the 25 universities specializing in the priority areas announced by YÖK with the title of Digital Technologies in Health. The support we receive in line with our priority area mission will give us even more power."
ANTALYA CAN BE A SOFTWARE CENTER LIKE CALIFORNIA
Rector Özkan called on faculty members and entrepreneurs: "I would like your support for the studies in the field of health technology. In this sense, the more projects come we will support them with great pleasure. Antalya is an important location and has a nice airport. It has a magnificent atmosphere. Akdeniz University is already a beautiful university. The location with Technopark is in a very important place. In this sense, why should Antalya, Akdeniz University not be a center in software? Now, an alternative to Istanbul can be Antalya. We dream of it too. Could this be a blockchain hub? With the support of you and our President, Antalya will get through this. I think Antalya can become a software center like California after tourism and agriculture."
INCREDIBLE PROJECT WORK CONTINUES AT HIGH SPEED
Antalya Technopark General Manager Dr. İbrahim Yavuz said that Antalya Technopark made much progress after the visit of Foreign Minister Mevlüt Çavuşoğlu in 2018. "In the technology development regions index, Antalya Technopark ranked 10th from the 35th place and was rewarded the Best Development Technology Development Zone award. Now it ranks 7th among the 98 Technoparks. As you know, our project works continue at full speed. Antalya Technopark, located in an area of 365 thousand m², has carried out 968 projects in the region with a 100% occupancy rate and 209 companies and carries out 270 projects as of today. 62 of these companies are companies with academic partners, and we have 104 incubation companies, and nearly 350 pre-incubation entrepreneurs. There are 1253 R&D personnel within the companies."
ANTALYA WILL BE A TECHNOLOGY AND INFORMATION BASE
Dr. Yavuz recalled, he said that we will start the technology and information base from Akdeniz University Antalya Technopark. In this process, he stated that they signed important projects such as Antalya Technopark Technology Valley, National Combat Aircraft Project and TAI Building, and Agriculture Technopark. He expressed that Antalya Technopark made a serious contribution to Antalya and the country's economy, with 8 billion Turkish Liras in sales and nearly 500 million dollars of exports since its foundation. Dr. Yavuz added to his speech that the number of registered patents to protect the project ideas of companies in the region is 95. After the opening speeches, the interview ended with the question and answer part of the company representatives and students.