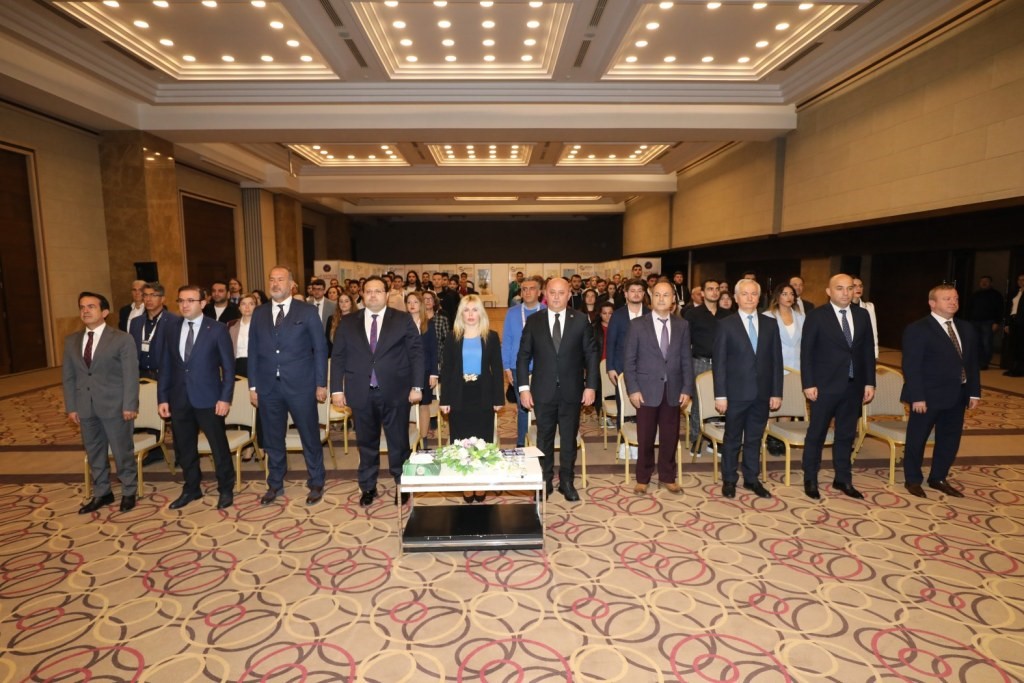 With the cooperation of Antalya Teknokent, Antalya Chamber of Commerce (ATSO), and Turkish Seeds Association (TÜRKTOB), the 6th Plant Breeding Project Market (BIPP) will be held at the ANFAŞ Expo Center on 24.11.2022, the second day of the Growtech fair, Turkey's largest agriculture fair nationally. Speaking at the opening of the Project Market, Akdeniz University Rector Prof. Dr. Özlenen Özkan said, "After the Russia-Ukraine war with the pandemic, the importance of agriculture was understood once again all over the world. The gradual increase in the world population and global warming also reveals the value of agricultural products and the importance of sustainable agriculture. Nowadays, R&D studies in this field are also gaining importance when agricultural products are considered strategic products for countries. As Akdeniz University, we attach great importance to R&D studies in agriculture, as in every field."
Stating that no work without R&D will achieve the desired results, Rector Özkan said, "Our Antalya can achieve huge achievements in agriculture by following the current scientific studies and developing new research activities appropriate to our country and region."
Antalya Teknokent General Manager Dr. İbrahim YAVUZ stated that as Akdeniz University Antalya Technopark held the 6th Plant Breeding Project Market this year with the support of TÜBİTAK. He said, the projects are important for the development of plant breeding in our country are included in the event. In this context, he emphasized that it is an important project for companies and entrepreneurs, saying the foundation of long-term cooperation based on breeding and project will be laid and that the agricultural sector will be able to produce with high added value. He stated strong cooperation in agricultural fields will be ensured by bringing entrepreneurs and companies working in agricultural fields and food together under the same ecosystem in the Plant Breeding Project Market.
Stating that project markets are organized by the Chambers of Industry and Commerce, Universities, Export Unions in various areas, Yavuz said, "the aim of project markets is to create joint R&D projects between universities, research institutions and private sector organizations, to contribute technological or financial to project cooperation proposals, to provide national and/or international technological cooperation. It has been organized five times so far by Akdeniz University in cooperation with different institutions and organizations. The first steps were taken for R&D collaborations by bringing together the improvement projects from Research Institutes and Universities with companies and through bilateral meetings. Considering the priorities of our region and the competencies of our university, the agricultural sector was targeted, and researchers and companies in Turkey carrying out plant breeding studies were brought together."
After the opening speeches, Akdeniz University Rector Prof. Dr. Özlenen ÖZKAN presented the plaques to contributing organizations (ATSO, TÜRKTOB, and Growtech). After the opening speeches, a panel on "Sustainable Food Systems, Technology, and Innovation in Agriculture" was held. Representatives from different institutions and organizations gave speech in the panel moderated by Dr. İbrahim YAVUZ.
Dean of Akdeniz University Faculty of Agriculture
President of Antalya Commodity Exchange
Director of West Mediterranean Agricultural Research Institute
Antalya Agriculture Provincial Director
At the beginning of the poster, the project owners gave information about the studies they carried out during the jury evaluations.
In the Plant Breeding Project Market award category, 15,000 TL for the first place, 10.000 TL for the second, and 8.000 TL for the third place. At the same time, a 3,000 TL honorable mention award will be presented to 1 project. Award-winning projects are listed below.
First Prize
Line and/or Variety Development in Winter Vegetable Cultivation
Gülay Beşirli – Atatürk Horticultural Central Research Institute
Second prize
Obtaining PMMoV and TSWV Resistant Pepper Varieties Using Accelerated Breeding Technology
Okan Sarıtoprak – Toprakseed Tohum Tarım Fide A.Ş.
Third Prize
The First Mandarin Type Obtained by Mutation in Our Country: Ertuğrul Bey
Ertuğrul Turgutoğlu– Western Mediterranean Agricultural Research Institute
Honorable Mention
Selection of Dwarf and Semi-Dwarf Plum Rootstock Suitable for Apricot in Malatya and Elazığ Provinces
Mehmet Özelçi – Kayısı Research Institute